Novel-T Literary T-Shirt Contest
Submitted by
birdie
on September 29, 2010 - 2:42pm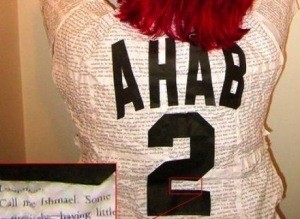 From Media Bistro's Galley Cat: For her entry in a t-shirt contest, reader Kristin Walko created an entire t-shirt out of pages from Moby Dick. The final product is pictured above.
Walko entered the Novel-T Photo Contest, a chance to win ten shirts and eight books. All you have to do is post a picture of someone wearing a Novel-T literary t-shirt on the company's Facebook page. The deadline is October 3rd, and the winner will be the picture with the most 'likes' from readers.
Here's more about the entry: "Here's my entry for the totally awesome contest! I may ogle your site each week but I've yet to be so lucky as to own a Novel-T, so this is my go at making my own Ahab shirt! I've fashioned it from pages of the novel itself (which I printed out--no book sacrificing here!). Thanks so much for doing what you folks do!"