UK Display of Defaced Dustjackets by Playwright Joe Orton & Kenneth Halliwell
Submitted by
birdie
on October 11, 2011 - 2:26pm
As crimes go it was not the most heinous of offences, but Islington council's principal law clerk, Sidney Porrett, made it his mission to nab the perpetrators.
"I had to catch these two monkeys," he said. "They were a couple of darlings, make no mistake."
The darlings in question were the playwright Joe Orton and his boyfriend – later murderer – Kenneth Halliwell, and the crimes were taking library books and returning them with comedy collages on the dustjackets.
After a fruitless investigation that involved undercover librarians, Porrett eventually caught the pair in an elaborate sting operation and they went to jail for six months each.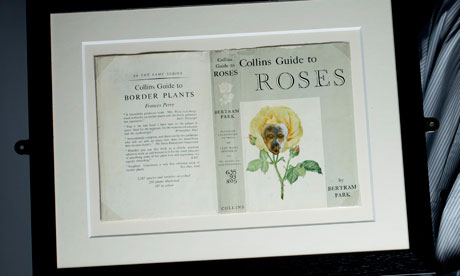 From Friday, the story of their crimes will be retold by the council, which is putting on display 40 of the 72 dustjackets that the pair defaced.
Islington's local history manager, Mark Aston, said it was the first time the jackets – "they're of international interest I'd say" – had gone on show in this number in the same place, and they shined a light on two fascinating lives and characters. More on Orton's short but dramatic life here.
Piece from Guardian UK.