Latest Magazine to File for Bankruptcy
Submitted by
birdie
on August 18, 2009 - 12:57pm
The Reader's Digest Association Monday became the latest magazine publisher weighted down by severe debt to file for bankruptcy protection. RDA said it reached an agreement in principle with a majority of its senior secured lenders on terms of a restructuring plan to reduce the company's debt from $2.2 billion to $550 million, and expects to file a pre-packaged Chapter 11 petition for its U.S. business within the next 30 days.
RDA's lender group will also provide the company with $150 million in debtor-in-possession financing which, it said, will be convertible into exit financing upon emergence from Chapter 11.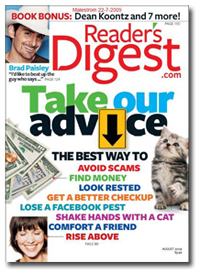 But, there will always be Reader's Digests....won't there?