Google is using print ads
Submitted by
effinglibrarian
on August 3, 2009 - 10:11am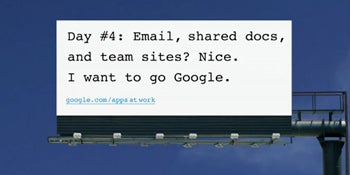 Google is using billboards to promote Google Apps (those online collaboration tools like email, calendars, mobile access, etc.) to business and comparing their products directly with Microsoft.
I hope these aren't those new super-bright lighted billboards that outshine the brake lights of the cars ahead of me on the highway.
The photos look like printed billboards.