Casper the Commuting Cat to be Immortalised in New Children's Book
Submitted by
birdie
on February 10, 2010 - 12:26pm
Dewey was a great one, but he will not be the only cat to be remembered in a book. Such a fellow was Plymouth U.K.'s Casper, who sadly was run over by a car while crossing the road to queue up for his daily bus ride last month.
Casper was an amazing cat who fancied himself a daily commuter. His life on the buses came to international attention last year. It turned out that for four years he had been riding the no 3 bus, passing the Devon city's historic dockyard and naval base, en route. He tended to curl up on a seat or sometimes purr around fellow passengers' legs, all the way to the final stop, stay on and make the return journey. Drivers got used to letting him off at the correct stop.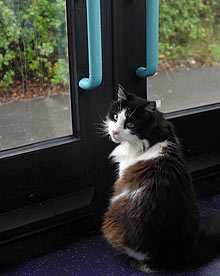 Owner Susan Finden, 65, said she would be donating any money she makes from the book to animal charities. She said: 'It's lovely to think he will go on in memories - and with this book his story will live on forever. The book will be published by Simon & Schuster next summer.
More on Casper in The Guardian and The Bookseller UK.